Peeling off the layers behind her music, Ella Jo has given a frank and revealing forward to her new book, Limits Of Milkweed Lyric Book.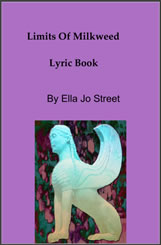 Not only does the book give all the lyrics to the songs on the album, but she discusses the history and meaning behind the songs in the interesting chapter, The Stories Behind The Songs. This is actually a book of poetry written by herself and other music partner's spanning the 1990s and beyond. Further to it's literary delight, the book is peppered with her original black and white art work. It makes a great accompaniment to her album, but serves as a great poetry book in its own right.
The book shall be available by the end of 2009 and will be the first of three books to accompany her three albums. All will be available in our bookstore.